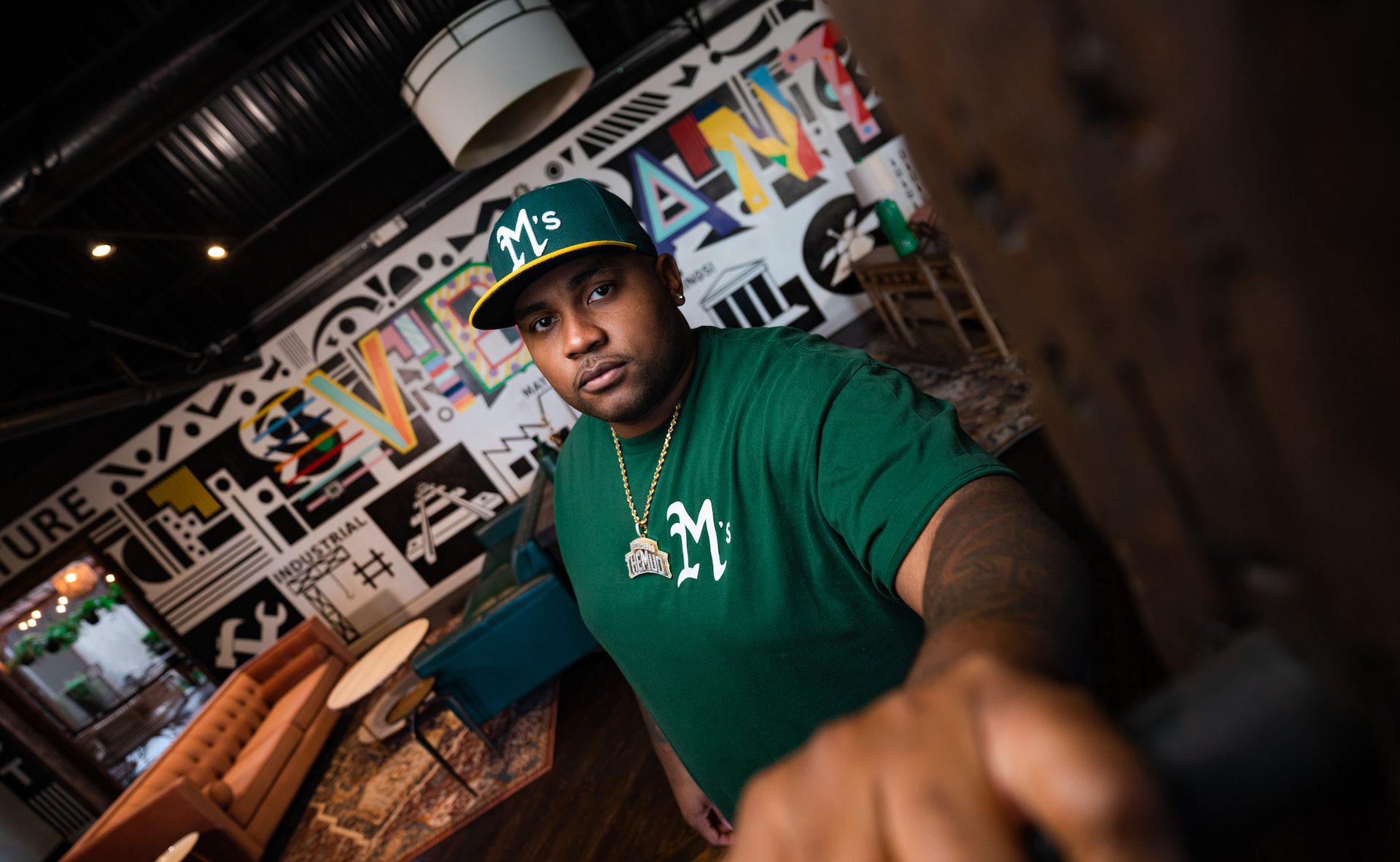 What do you get when a DJ turns into an apparel designer? Timeless style, unparalleled quality, and a whole new level of entrepreneurship! At least that has been the professional trajectory for DJ Boo Godi, who is the founder of apparel brands Mud Made and I'm From The Mud (IFTM), and Co-Founder of Midwest Kids.
Born & raised in Toledo, Ohio (a.k.a. "The Mud"), DJ Boo Godi learned a lot about hustling and held many different jobs from construction cleaning to delivering pizzas for Marcos Pizza. Spending a lot of time in Cleveland when he was young, he was also able to develop his taste in style and music. Taking what he learned in Toledo and Cleveland, he moved to New York City in 2015 and spent the next five years finding himself and making decisions that would change his life. Accrediting New York City as the reason he is the man he is today, he is now a sought-after DJ, runs multiple clothing brands, produces music, and is investing in real estate.
Though he had a passion for the music industry for a few years, his main focus is his apparel brands. When asked about the inspiration behind Mud Made, DJ Boo Godi and this to say:
"Mud Made was inspired by the Toledo Mud Hens Logo. Some friends and I used to run around saying we were from 'The Mud'. It derived from the mud in "Mud Hens," meaning we came from poverty (the bottom).
The brand started as "I'm From the Mud." It eventually grew into "Mud Made" (as I evolved, I wanted the brand to evolve, as well). I'm From the Mud (IFTM) sheds light on where we are from; Mud Made (MM) sheds light on the fact we made it out.
It also made the brand more appealing to people that aren't from Toledo. MM is beloved worldwide; IFTM was more of a local brand."
There was so much representation for clothing for other regions (i.e., the east coast, west coast, and down south) that DJ Boo Godi wanted to create a brand highlighting where he came from and a brand people from the Midwest could wear and feel proud doing so. Creating something that reflects where he comes from, and that people love has been an extreme reward for DJ Boo Godi. What greater feeling can be received than seeing everyday people and celebrities worldwide in apparel he created. Most notably, one of the most speechless moments was a photograph of LeBron James seen in his apparel. DJ Boo Godi said this of the experience:
"I remember the day LeBron wore it. My partner was Kanye's stylist for four years, so he developed relationships and connections with many celebrities. Before seeing a picture of him in it, we got word that LeBron wore our hoodie to a private birthday dinner. Once the photo leaked, it was wild since we had only been in business two months prior to him wearing it.
Honestly, I can't explain the feeling. We didn't even fully grasp what we had. Our brand was so new, and I just remember smiling big as hell when I saw it."
When you have celebrities wearing your brand, it is very often many others follow suit. Since that time, Lebron James has continued to support DJ Boo Godi and his brand partner, Darryl Brown. It opened the door for collaboration with LeBron and his brand Uninterrupted.
So, what is next for DJ Boo Godi? On November 5, 2021, he is opening a flagship store, Field House, in downtown Toledo; after which, he plans to open a print shop named Weight Room and a photography studio called Home Court Studios. There is so much in store for DJ Boo Godi. He is showing it is just the beginning, and the world will see and feel his evolution.
From releasing his first apparel brand to opening a flagship store in "The Mud", he has grown so much as a designer and businessman. He can now share what he wants with who he wants because now he is in control of all aspects of his life and career. Everything he does is a tribute to everything that got him to where he is today – his love for music, his hometown, and his love for himself.